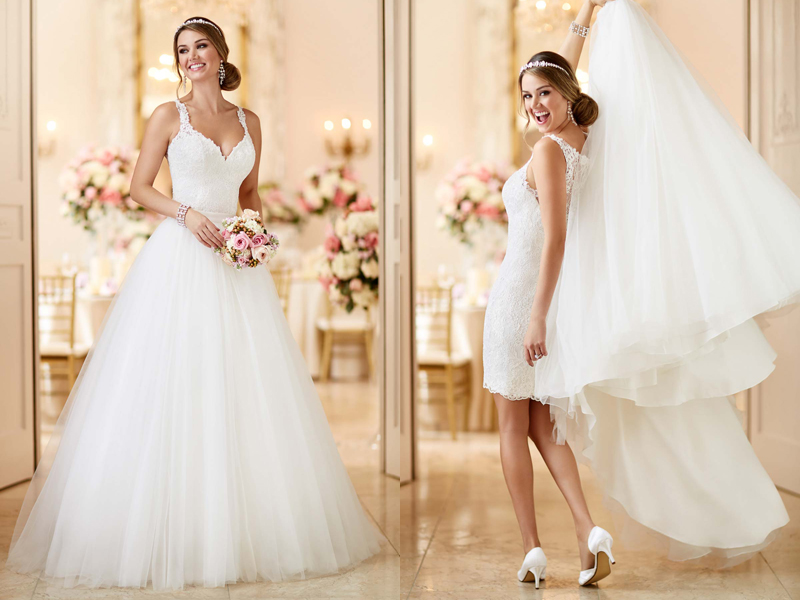 Your wedding is around the corner, the money is limited, and the expectations are high. Fear not as Lucy and Loo will provide you with six amazing tips that will circumvent some of the critical issues and ensure that your big day is one for the ages. There's no denying that weddings can be expensive but with a bit of planning there are plenty of ways to keep costs under control without compromising on style.
Fit over Price
It's all about the fit. You've heard it before – it's not about how expensive the dress is, it's about how well it fits. A less-expensive dress that fits like a glove will look far better than an ill-fitting garment that costs the earth. Our convertible bridal collection dresses are all available in custom measurements and will be made to your exact specifications, so you get all the tailoring without the extra expense. Additionally, the immaculate fabrics utilised to make the dress are resilient and elegant to accompany you on your big day.
Winter Bird
Consider being a winter bride and explore the beauties of the winter season. Many venues offer off-peak rates in winter and are likely to have more available dates. Nevertheless, the cooler weather gives you the perfect opportunity to consider a more unique and different dress. Prices for weddings tend to go down during the winter, as plentiful people prefer the warm weather. Don't disregard the beauty of a winter wedding. At Lucy and Loo, we can tailor your convertible bridesmaid dress with a sleeve look to suit the weather and your big occasion.
Convertible Dresses
Convertible bridesmaid dresses. There's no need to spend a fortune on bespoke bridesmaid dresses for your bridal party. Convertible bridesmaid dresses from Lucy and Loo are affordable and completely customisable for each of your bridesmaid's individual styles and shapes. With our ever-expanding range of colours, it's only a matter of time before you find your perfect shade. Our team of designers ensure that they research and follow seasonal trends, this way you always look up-to-date without skipping a beat. Additionally, with an increasing selection of accessories including skirt overlays and brooches, your bridesmaids can create an even more bespoke look to make you stand out.
Seasons, seasons and seasons
Stick with the seasons even when it comes to your floral selection. Yes, peonies are beautiful, but unless you're getting married in Spring, they will cost you an arm and a leg. Consider substituting with roses which are available all year round and just as gorgeous. Ask your florist what's in season for your wedding month – by going with what's seasonal your bouquets and centrepieces will not only be cheaper but looking their best and freshest as they won't need to be imported in cold storage from halfway across the world! Your florist should have the expertise to distinguish the variety of flowers that will make your special day, extra special without going overboard.
Bring your own
If possible, BYO alcohol. Check with your venue whether you can supply your own alcohol. A trip to your local bottle shop to stock up on a few boxes of wines and beers of your choice is going to work out much more cost-effective than paying a venue to supply an expensive beverage package at an hourly rate or per head to serve the barely drinkable house wine and beer. At least enjoy the alcohol you want! If there is a BYO policy for guests, then that is even better. All guests will bring their preferred beverage and the event will be amazing.
Rapid Proceedings
Avoid long gaps between the ceremony and reception. Photographers and musicians often charge by the hour or offer packages based on time so the shorter the gap, the less you have to pay your vendors. And your guests will appreciate not having hours of time to kill. The faster the better. Everyone wants to celebrate you at the reception, so the quicker you get there, the less amount of money you spend.
Here at Lucy and Loo, we look to make your big day memorable with our immaculate convertible bridesmaid dress collection. When you hear the phrase:" multiway dress Australia" or "multiway bridesmaid dress" your mind should only pinpoint to one company. The industry pioneers and dress specialists, Lucy and Loo. We are the largest stockist of multiway bridesmaid dresses in Australia. Our experienced team of dress designers work effortlessly to ensure that all our bridesmaid dresses are tailored to your specifications and ready to impress on your big day. For any additional information you might require, feel free to contact us directly or browse our online website.