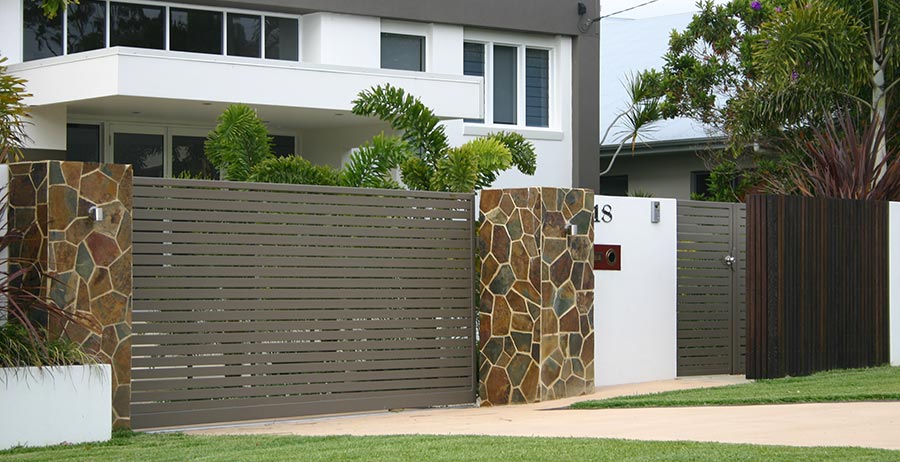 The automatic gates besides being a valuable choice in terms of safety at the time of saving the car or entering our house, will give us a greater comfort to our lives when arriving at home, without getting off the car we will be able to open from a simple remote control the gate of our house, either sliding, swinging, today there is a wide variety of brands of engines and systems so that our gate can be automatic and deliver that security and comfort that is so necessary in the times we live.
Today we will tell you some things you must know before you install your automatic gates in your house or building. Ad remember that here at MDI you can find the automatic gates you need, being installed quickly and without any issues.
These systems work both automatically with electric light, although you can also attach a battery system when we have no light, and also work manually, when the engine fails or we have electricity in our homes.
These systems are chosen by family homes, farms, buildings and factories, depending on the capacity of the engine and its strength, it can be used in heavier gates, which is always a factor to be considered.
The weight of our gate, the engine should not be forced to allow a long life, and avoid problems of repairs and unnecessary services, if we do things right from the beginning we will not need so many repairs and services. Automation of automatic gates can be done both in new gates of any type of material built as both can be used in existing gates, with a few modifications we can adapt our old gate to an automatic system.
The remote controls will work at a distance, that will depend on our engine, the characteristics of it, the vast majority supports 20 to 30 meters away, and with just pressing a button we can open our gate before arriving home. It is recommended to look to the sides to avoid entrances and security problems, increasingly common in our days, in case these systems provide greater security than having to get off the car to place the key and open a non-automatic gate manually , and then on top of having to do the same to close it, losing a great deal of time and putting our physical integrity at risk in the face of robbery or violence.
The gates are the main entrance to our house, so it is very important to think about the style, material and design of our automatic gate. A modern gate will add to the exterior design of our home, the gates may be made of sheet metal, open gate, closed gate, wood, half wood half iron. Nowadays, Mayan designs are extremely popular, plus you can include a lot of aesthetic accessories.
Take into account the construction of automatic gates are both draw, slide and folding. Automatic lift gates have an irreversible system, in the event of a power outage it has an unlocking from the inside through a key, the set consists of a motor control panel, receiver, and two remote controls with two buttons used to open a second gate, plus you can add many more remote controls, as many as we need.
There are many professionals that offer the complete service: manufacture, sale, installation and automation of lifting gates. Two-way drawbridge gates, with perfect balancing counterweight, fixed lining, or with escape hatch, the frame of the drawbridge is built with sheet B.W.G 16, the frame and its sheet metal lining 18, ideal for family houses.
There are a variety of coatings such as for our automatic gates: wood, expanded metal, perforated plate, grilles, as well as in the same material if you want the rest of the front to match, the designs of the liftgate are made to order.
The sliding automatic doors come equipped with electronic brake, when the sliding gate closes to meet an obstacle decreases the force eliminating the maximum pressure, in case of power cut is opened manually with unlocking key, automatic sliding gate includes command board, receiver, and two remote controls with two buttons to optionally open a second gate, you can add more optional functions.
Whenever you need automatic gates to be installed in your house, it is important to contact a specialist and professional, whether draw, folding or sliding, each has its own automated system for our house. Also remember that you can always convert your current manual gate into an automatic gate.
An automatic folding gate system includes: command board, receiver, and two remote controls with two buttons for an eventual or future second gate.
The gates recommended for industries are the drawbars or guillotines. The guillotine systems consist of a single side column of counterweights that can be placed indistinctly on either side. The gate is lifted by vertical guides. The entire system of counterweight, keys and pulleys is embedded in the frame and head. The system allows the construction of large gates with diverse types of coverings: wood, sheet metal, aluminium, grille, etc.
At MDI we have managed to become a leading company in Australia in the field of automatic doors, without a doubt, this achievement would not have been possible without the quality of materials with that our products are manufactured and, above all, to the excellence in the service we have provided throughout our years of existence.
Keep in mind that living in a residential complex means having a private home, which shares its areas of widespread use, such as internal roads, green areas, social areas, among others. However, if you want to make your house or building feel as safe as a closed circuit then what you need is an automatic gate that optimises the way you enter your house and the way you go out from it.