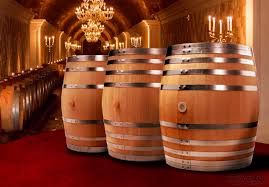 We all like to have a few glasses of wine served directly from a barrel. But the truth is that not everyone knows what they can do with the barrel once it no longer contains wine.
Being a little handy we can turn the bottom of our barrel into a perfect decoration or storage element.
Are you tired of the typical chimneys? Make your own fireplace by recycling your wine barrel! You will get sparks between you and your companion and you will surprise all your guests. Finally, the harvest time has come, there are days when the topics of conversation are focused on everything related to the world of wine, so we want to talk about one of the most important elements in the development of the wine… "The wooden barrels" and introduce them in the decoration of the home, garden or business… A wooden barrel is a valuable treasure, you can always receive something beneficial from having one.
The wooden barrels are excellent decoration elements for rustic environments.
Today we are going to see some ideas of how to incorporate the wine barrels in the decoration, giving them a new use.
Remember that Wine Barrels can easily help you give this old western feeling to any area of the house and you can rent them or buy them today. Contact us for more information.
12 Ideas to decorate with wine barrels
1- From barrel of wine to table: it is the most usual utility for a barrel of recycled wine, since the surface of its lid is big enough to make the barrel a high table to enjoy a standing aperitif.
With several wine barrels and a wooden plank above you can organize a banquet in the garden of your house.
2- From barrel of wine to side table: Depending on the cut we give to the barrel we will get an original coffee table for the living room or an ideal side table to place next to the sofa, in the bedroom ….
3- From wine barrel to bar cabinet: A bar cabinet made in this way is a creative way to display those bottles of wine that you keep for special occasions.
4- From wine barrel to bathroom furniture: This time we present it as a sink or as a bathtub …… Original, right?
5- From barrel of wine to ice bucket: With a barrel broken in half and a simple foot to raise it from the ground, we can create an original ice bucket to keep drinks fresh in our big celebrations.
6- From a barrel of wine to a garden: With a half-cask we can invent a simple planter to place our favourite flowers on it and add a touch of colour and fragrance to the garden or terrace.
7- From barrel of wine to decorative lamp: We can use a part of the barrel as a ceiling lamp and place some bulbs with bottles and also with a whole barrel make some holes and place inside a light bulb, it will give a very indirect light welcoming
8- From a barrel of wine to a decorative fountain: It will be one of the most original pieces of your garden.
9- From barrel of wine to mirror: with this original mirror you will give a rustic touch to any entrance of a house.
10- From barrel of wine to banquette: If you are very handy you can make your own stools as you are …. Do you dare?
11- From barrel of wine to bed for your pet: Let your pet rest with style ….
12- From a barrel of wine to a musical drummer: Incredible but true, a drum with barrels, we do not know what the percussion of this drums will be like, but it is original for a while…
As we have seen there are many possibilities that have the wooden barrels, find yours and incorporate this element in the decoration of the home.
3 ideas to recycle a barrel for fountains
We show you three ways to take advantage of an old barrel as a source for a garden
For all those who choose to give a second chance at life to objects, even more to the oak barrels that noble service to wine contributed in their other life, you can always find a beautiful and decorous way to recycle.
Immersed already in full spring, where water is life (if the winter has been generous in rain) have your own source in your garden becomes acoustic, visual and even thermal pleasure for the senses.
Maybe it is an Arab legacy, that will leave us so many influences in the culture for the love of the sources (in turn, inherited from the Greco-Roman tradition), the truth is that the fountains print a certain magnetism to the visitor shelter, rest and rest in a garden…
The company of a beautiful source together with a wine cup, a good conversation or a good reading, are inequitable pleasures not always available to all.
Well there is also a way to get a source prepared to decorate your garden with the belly of a barrel:
A barrel / tap can be the tap taking advantage of the free fall in gravity of its opening. From that tap where elixirs once came, today is a haven of peace.
Even those who dare and are crafty, the fountain can have three heights depending on the size and diameter of the barrels or small wooden barrels.
An original way to surprise the visitors of your garden with the recycling of a barrel, beyond the traditional tables.
Wine Barrels can easily help you give this old western feeling to any area of the house and you can rent them or buy them today. Contact us for more information. Along with our top wine barrels for decoration you can also include many other materials that help you recreate a western style from cowboy movies.