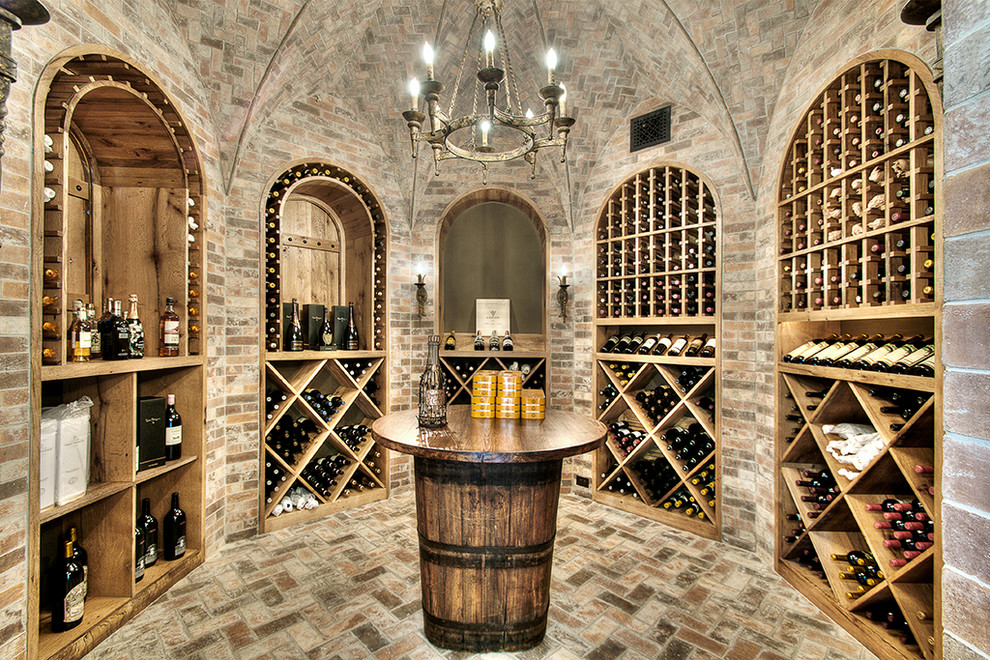 Learn the ways in which you can reuse an old barrel to decorate your environments with a rustic and eco-friendly style!Believe it or not, an old wine barrel can be reused in very versatile ways in decorating your home. Besides being contributing to reduce the amount of wood that is cut in the woods to produce furniture, you will be adding a rustic style that will give your rooms a fresh and original detail.
A table, an armchair, a fountain, a sink or a lamp can be some of the objects that you can create from giving an old barrel a new use. In addition, you will take advantage of the quality and durability of your wood in an ecological way.
Remember that here at Wine Barrels you can rent or buy beautiful wine barrels for decoration and add a classic touch to your place. Look at these ideas that will inspire you to put hands in action to generate a rustic, close and relaxed air of the environments you decorate.
Colourful flowerpots
The old barrels, due to the level of resistance of their wood, are ideal for decorating outdoor spaces. You can use them to create deep pots where you can plant the flowers that you like the most and thus bring colour and joy to your garden.
In addition, you can decorate the wood or paint it to print even more your own style. If you turn them over, you can create a water effect with flowers! The designs to create your own planters reusing barrels are many and you can vary them as you prefer. If you make some cuts, with wooden boards you can create a flowerpot or small garden in an economic and ecological way.
Water cascade for the garden
Wood and water, in combination, create a fresh, natural and relaxing sensation. An old barrel can also serve to create, with little money, a rustic fountain that will become the central point of your garden.
Rustic outdoor table
As simple as placing two barrels and a wooden board can look like this and solve a table to have lunch with friends or family in the garden of your home.
A small bed for your mascot
Your pet can also have its own armchair built from an old barrel by just cutting it in half, making a side opening, sanding and placing a comfortable cushion.
Auxiliary living rooms
See how simple it can be to create small wooden tables in your living room by simply cutting and varnishing them. With a glass plate above you can build a very nice rustic furniture without spending a lot of money.
Rustic baths with barrels
Even if you do not think it's possible, the barrels can also be used in the bathrooms! As a small bathtub or as a sink, they will give you a very particular rustic style.
Comfortable outdoor chairs
You can also create armchairs reusing barrels that will be perfect in your garden, patio or terrace to rest and enjoy the outdoors.
Original design for tables
Look at this simple idea to convert a barrel into a super original design furniture to place in any environment you choose. In addition, you can add a small opening covered in glass to add another creative and personal detail.
Rustic lamp
The old barrels are not only reused to create furniture, they can also create decorative objects like this lamp that will combine perfectly with an environment where earth colours prevail.
An original lavabo for your garden
Look at this original idea to create your outdoor sink by reusing an old barrel. Did it ever occur to you? You can also, as here, add a table around to wash or cut.
Wooden mirror
Another option to create a super creative design object is to reuse a piece of barrel to put together a mirror that will give your environment a fresh, sophisticated and natural detail.
A spectacular bonfire
If you thought that everything was said, surely you never thought that a barrel could be reused to create your own campfire in your garden. See what a magical image the fire creates, perfect for making music around you or having some delicious pinches of roasted vegetables!
As a coffee table
It is usually the most common way to reuse this object in the decoration. In this case they have added a large plank on the top and two smaller ones that make legs and hold it down.
As a shelf
The possibilities of reuse will depend on the dimensions. In this environment they have limited themselves to placing a board between two barrels. If you follow this idea, make sure that the surface is stable enough.
A bed for your pets
It is a satisfactory solution to prevent your cat or your dog from filling the hair sofa. In addition, it is an alternative of the most original.
As a support to create a decorative corner
The barrels alone are very decorative. Sometimes it is not necessary to touch anything so that, with their mere presence, they give a rustic touch to the environment.
If you do not mind modifying the shape of the barrel you can convert it into multiple objects. In this space they have transformed it into the bar that every wine lover would like to have in their house.
A ceiling lamp
The light bulbs made with barrels are perfect for rustic-style stays.
As a seat
The circular shape of the barrels is reminiscent of that of the stools, so it will be easy to turn them into this type of furniture.
The wine barrels give a lot of game when it comes to decorating. They are very versatile and can be reused as supports, furniture or decorative accessories. Many companies sell with household objects made with barrels, although some of the ideas in this post you can carry out yourself. Contact Wine Barrels today for more information.