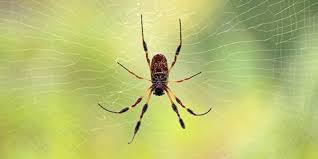 Insects are one of the least appreciated creatures in the animal world, sincerely nobody likes flies, bees, worms and much less spiders. The fear of spiders is one of the most common there is, and with good reason: they bite you and some are extremely poisonous or hairy like tarantulas.
To date, more than 42,000 species of spiders have been described, and 110 families have been collected by taxonomists. And they have played major roles in media and they even have one of the most popular phobias named after them (arachnophobia).
Once winter has already approached us. It's time to dust off the long coats, scarves, gloves and hats. These colder months bring wonderful things like snow, cosy nights by the fire and, of course, two of the best days of the year, Christmas and New Year's Eve as a family. But there are also other tenants who love to share our homes with us during this season … Spiders!
During the autumn months, male spiders leave their hiding places made with spiderwebs and explore our homes in search of new brides. And it's not that we do not want to be romantic, but how unpleasant it is to meet them at home.
If you have spiders at home it is very important to keep them under control! Keep in mind that most of these animals cause a plethora of harmful conditions, however, these  can be controlled by preventing pests from staying where you live and contact Brisbane Terminator today, we will know what to do.
It is true that these spiders are wonderful creatures, but they are still the reason for the nightmares of more than one, if not all, especially for those who suffer from arachnophobia. So, without winding up, here are 10 things about spiders that you need to know:
Spiders are literally everywhere
This could scare you as much as it does to us, but it is proven that you will never be further than 3.5 meters from a spider. But do not worry, most of the time they are hiding in some hole doing their normal activities.
Spiders have varied sizes and shapes, each with its own characteristics
There are approximately more than 30,000 different species of spiders known. Well, that's not all, some scientists believe that there are at least as many others that have not yet been discovered.
Not all spider bites are deadly
There are few spiders that cause unpleasant bites and that with their venom can cause some health risk. Most spiders do not bite humans and if they do, their venom is not strong enough to cause any damage.
Female spiders have a big appetite
Unfortunately, this is not a very good news for male spiders. In some cases, depending on the species, the female spider will eat the male before, during or after copulation. Romantic, right? Did you know that this behaviour of sexual cannibalism is what inspired the name of widow spiders, like the black widow?
Spiders love dancing
Surely you will think that this is nonsense to have something else to say, but it is true!
The "peacock" spider, Maratus volans, does a dance that is part of their mating ritual and really looks like the YMCA choreography we all know. To this dance are added the bright colours of your abdomen making it a wonderful sight worth seeing.
And here again the female spiders send, if the YMCA male spiders do not impress them, they will decide to attack them, kill them and even devour them.
The silk of the spiders is super strong
Yes, you read correctly, the silk of the spiders is very strong. They look like weak and brittle threads but nothing farther from reality. The silk of spider webs is five times stronger than a metal thread of the same thickness. It is believed that a spider web made of threads the thickness of a pencil can stop an airplane in mid-flight.
Spiders have blue blood
Unlike us, spiders have blue blood.
There is in fact a scientific explanation for this. In humans, oxygen is associated with a molecule that contains iron, and this is what gives our blood the red colour. However, in the case of spiders, the associated molecule contains copper, which makes its blood a bluish colour.
The silk of the spiders is liquid
This may sound strange, considering that we are used to seeing spider silk in the form of cobwebs. How can it be liquid? There is an easy explanation. When the silk comes in contact with the air, it hardens, allowing them to create and build their networks.
Male spiders like to give gifts
Male spiders not only like to seduce their partners by dancing, they also offer their love through gifts wrapped in silk in order to get an appointment. Although I would say they just try not to be attacked.
The males can be quite clever. Instead of offering them gifts such as flies and other insects, they can gift-wrap them with useless things like scraps of leaves or old gifts that have not been successful with other women.
Spiders have strong muscles
To be honest, it's quite fascinating to see the way the spider muscles work. Your muscles can only pull your legs inward but you cannot extend them again. To achieve this movement, the spiders pump an aqueous liquid in their legs, which causes them to return to their original position.
This explains that when we see a dead spider, its legs are contracted since they have not had time to pump the watery liquid that makes them return to their stretched position.
Remember that diseases transmitted by insects are an important cause of diseases of children and adults worldwide. There is a wide range of diseases related to pests and insects in general. Here at Brisbane Terminator we will provide you with the services you need to ensure the order and having a hygienic workspace or house.